Parts Department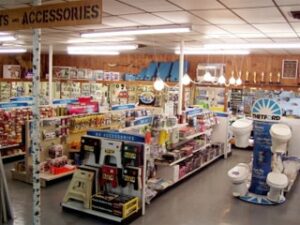 Our Parts Department is fully stocked with over 15,000 parts and accessories. From the
most common everyday items in your RV to the hard to find replacement parts, we feel confident
that you'll find it here. We are also the largest supplier of Jayco parts in Maine. In the rare
situation we don't have it, in most cases we can get your part here within 24 hours.
Need technical advice? At Call of the Wild RV Center it's always absolutely FREE !
Service Department
Call of the Wild RV Center has an award winning service department that has been
recognized by the RV industry multiple years for excellence in customer satisfaction. Maine
licensed and RVIA certified technicians are on hand to service most brands of RVs, appliances
and any towing needs you might ever have. We are proud to say that these techs range in
experience to over 20 years – these are the best of the pros working for YOU!
Parts & Service Departments open: Mo-Sa 8:30am-5pm for your convenience.
Feel free to call (207-539-4410) with any specific questions or to set up an appointment OR
simply fill out the e-mail box below and we will get back to you.